Curbside Collection
The City of Salmon Arm provides residential curbside garbage and recycling collection service for all single-family dwellings, bare land stratas, mobile homes and other eligible dwellings within the city limits.
Please use the tools under Waste & Recycling Information below to help with what-goes-where, view your schedule, set reminders, contact-us and more. To see your personal schedule click on View Schedule and enter your address when prompted or get the RecycleCoach app for your smart phone (see Recycle Coach News below).
As of July 1, 2019 the collection zones and schedules have changed. Please view the new 2019 Program Guide for details.
To report a missed collection either use the "Contact Us" form below or call or email SCV Waste Solutions at 250.803.4074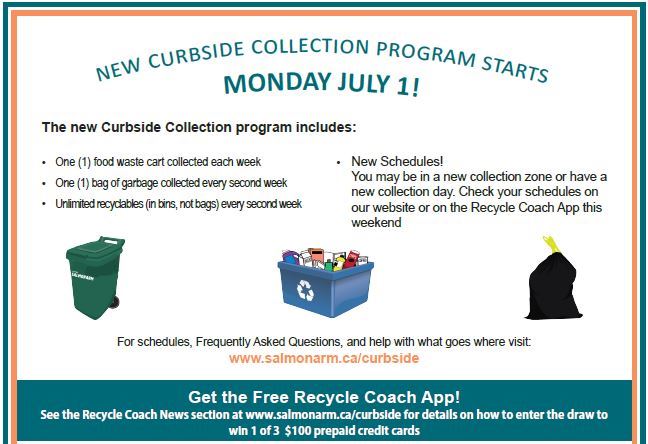 Curbside Collection Program Changes start July 1st
You should have received your food waste bins, recycling bin and program guide by now. If you've been missed, report it to the City ASAP if you haven't already done so. Missed bins will be delivered the week of June 24th.
In preparation for the new program, please begin using your recycling bins instead of bags and collecting your food waste separately and make sure you know your new zone and collection day. Collection for the first week of July will be food waste and garbage. For the second week of July it will be food waste and recycling, and so on from there – food waste every week and garbage and recycling on alternate weeks.

As a reminder, get the Recycle Coach smart phone app for up-to-date collection schedules, notifications and a what-goes-where search tool. Download the app and enter the draw to win 1 of 3 $100 prepaid gift cards. See Recycle Coach News section below for more info.
Please see our FAQ's (PDF) for more information about the curbside collection program changes.
Starting July 1, 2019 the Collection Schedule (PDF) and Collection Zones (PDF) are changing. Please ensure you are aware of the changes.
Our 2019 Curbside Collection Program Guide (PDF) is now available.
Food Waste Collection Update:
The City of Salmon Arm will be rolling-out Food Waste collection as part of our existing curbside collection services on July 1, 2019. Food waste will be collected weekly while recycling and garbage will be collected bi-weekly on alternating weeks. The City will ensure options are available for residents with special waste needs to opt into weekly garbage collection on a user pay system. Bag tags will continue to be available for residents with additional garbage or food waste. Yard waste is not permitted in the food waste collection program and will continue to be collected semi-annually in the spring and fall, or can be taken the Salmon Arm Landfill anytime for free disposal. Please also note that recycling will no longer be accepted in bags – bins must be used as of July 1, 2019. Refer to the FAQ's (PDF) for more information.
Recycle Coach News:
Residents who install (or already have) the Recycle Coach app on their mobile phone between now and August 4th, 2019 have the opportunity to enter a draw to win 1 of 3 $100 prepaid credit cards or 1 of 10 curbside collection gift baskets! Draw will take place the week of August 5th, 2019. See below for more information about the Recycle Coach app and click here for details on how to enter the draw.