Visitors
Our Community
Welcome to Salmon Arm - a lifestyle community! We invite you to visit and enjoy our hospitality. We're sure you will like what you see. Our climate is moderate with four distinct seasons. Our community is rich in culture and arts and our diversified economy includes forestry, agriculture, tourism, manufacturing and commerce.
Lifestyle / Recreation
Shuswap Lake is one of the most popular recreational destinations in BC. The 400-plus kilometers of shoreline contain more than 20 provincial parks and offer unlimited water-related recreational opportunities. The surrounding mountains provide beautiful trails for cross-country skiing, snowmobiling, mountain biking and hiking.
Within Salmon Arm you will find parks, playgrounds, tennis courts, golf courses, the SASCU Recreation Centre featuring an indoor swimming pool and full-size gym / auditorium, The Shaw Centre with two full-sized ice rinks and numerous other sports and fitness options.
Arts, Culture and History
Salmon Arm's pride in its past is evident in the careful restoration of heritage buildings located at the RJ Haney Heritage Park. The Salmon Arm Fall Fair has been an annual event since 1897. The Salmon Arm Bay Nature Enhancement Area provides a wonderful ecological opportunity for wildlife viewing. Cultural activities in Salmon Arm are numerous and varied. Throughout the year, there are live theatre presentations, art shows and music performances from symphony to folk, much of which is provided by our very talented residents.
Diversified Economy
As the main regional service and trade centre for the Shuswap, Salmon Arm's facilities meet the needs of any industry. You can benefit from our major transportation connections, skilled workforce, educational facilities and fully serviced industrial park. Salmon Arm has strong roots in agriculture and forestry, with both industries continuing to play a large part in our community. Our location on Shuswap Lake provides numerous tourism opportunities.
For more information, visit our Economic Development website.
Community Amenities
Salmon Arm provides excellent health care services, municipal water and sewer service, four fully equipped fire stations and an Royal Canadian Mounted Police (RCMP) station with approximately 40 officers and support staff. We have a door-to-door and fixed-route public transit system. Salmon Arm itself has five elementary schools, one middle school and a senior secondary school with two campuses.
The Salmon Arm Campus of Okanagan College provides university transfers as well as continuing education and vocational courses. Churches of several denominations are in the immediate area.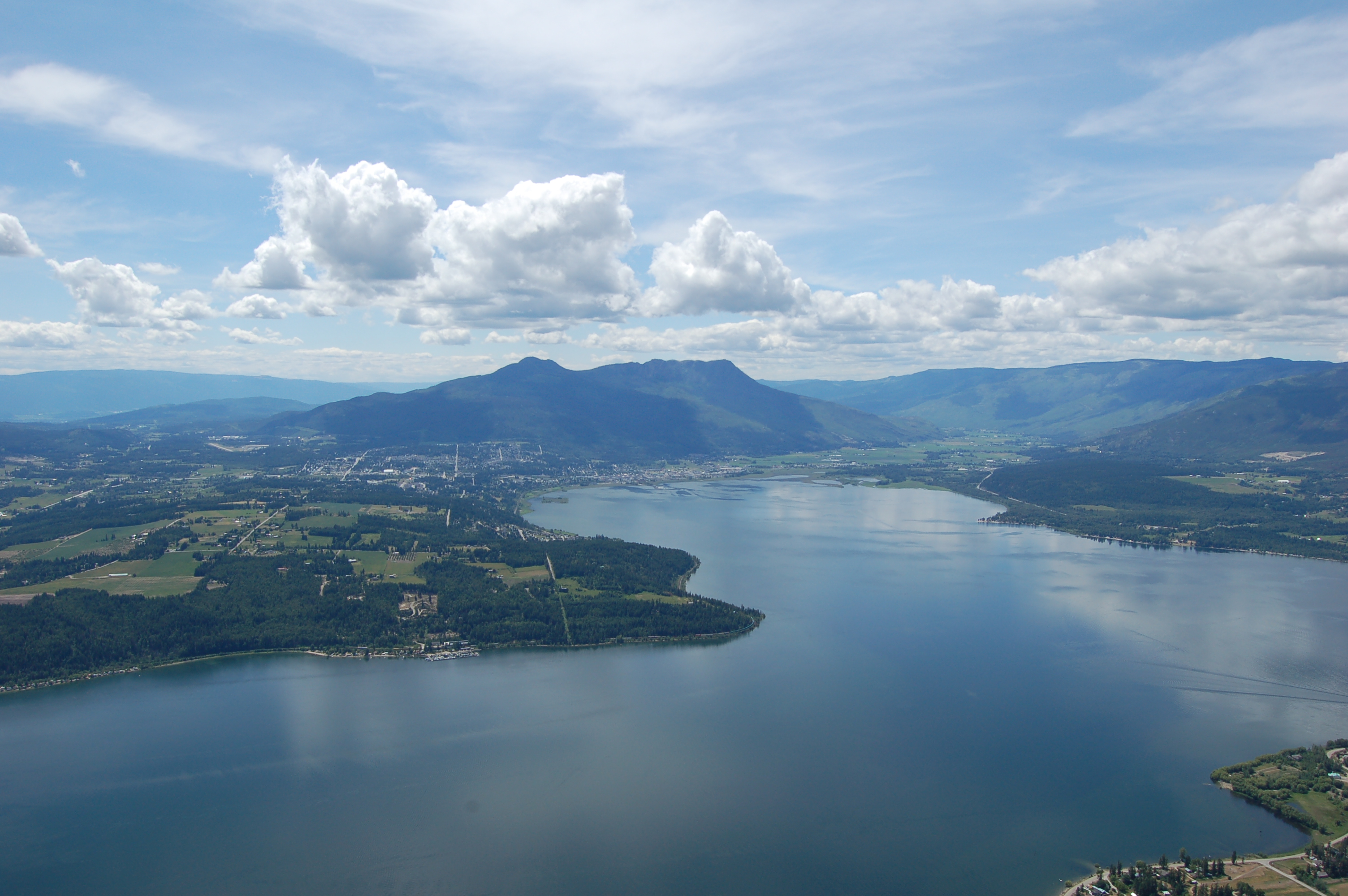 Nestled on the shore of the Salmon Arm Bay of Shuswap Lake and surrounded by rolling hillsides, Salmon Arm offers shops, services and facilities to meet every need. Stroll through the charming downtown area and browse through the many restored shops brimming with local art and crafts. After relaxing at one of the numerous local coffee shops, take a walk in the Salmon Arm Bay Nature Enhancement Area.
Major Industries and Commerce
Agriculture - Fruit, dairy, beef, hog, poultry, sheep, vegetables and forage
Forestry - Logging, milling and plywood
Secondary manufacturing - Lumber processing, machinery, sporting goods, food products, transportation equipment, building products, printing and publishing
Tourism - Accommodations, auto services, boating services, restaurants, conferences, golfing, resorts, houseboating, tourist attractions, etc.
Population and Location
Salmon Arm is the largest community on Shuswap Lake and the business centre of the area. Our population is approximately 17,100, and we are centrally located on the Trans Canada Highway between Calgary and Vancouver. Salmon Arm's location makes it an ideal destination for day trips to the mountains for skiing, hiking and biking, or the lake for a day of boating or relaxing on the beach.
Lifestyle / Affordability / Access to Markets / Skilled, Stable Labour Supply
Salmon Arm - Shuswap is well known for its beautiful, lush setting amidst mountains, lakes and valleys, highlighted by magnificent Shuswap Lake, which is bordered by more than 400 kilometers (250 miles) of navigable shore line.
This setting, combined with a temperate climate and clean, healthy environment, continues to attract and maintain a stable, happy, productive workforce and is attractive for retirement and semi-retirement. This provides sustained growth and business opportunity. Relative to many Canadian centres, the costs of housing, industrial land, business services and infrastructure are significantly lower.
Salmon Arm - Shuswap is strategically located between Calgary and Vancouver on the Trans Canada Highway at junction 97 to the South Okanagan, thus readily providing access to the 300,000 residents of southern BC.
Salmon Arm has something to offer everyone. We have a vibrant growing economy and an outstanding quality of life that is envied throughout Western Canada. Salmon Arm's economy is diversified with real strengths in agriculture, forestry, light manufacturing and tourism. These four engines of our economy have support from a strong, small business sector that has flourished through the entrepreneurial spirit and strong work ethic of our citizens.
Community Theme
Salmon Arm has identified "Lifestyle" in "Harmony with Nature" as the theme for our community. This theme is a reality, what a setting - the blue of Shuswap Lake in front of our community with the setting of emerald mountains in the background.
Salmon Arm's "Lifestyle" has attracted many talented and professional people to call Salmon Arm home. This wealth of gifted people has enriched our arts community, education and technologies. Salmon Arm's location on the Trans Canada Highway directly between Calgary and Vancouver makes trading markets as well as cultural and sporting events very accessible.
All this, and in a community that has affordable housing and relatively low property taxes and land costs. Salmon Arm has a strong, well developed community infrastructure comprising of a modern hospital, an airport (serving Vancouver), University College, medical services and facilities for all ages, and numerous modern recreation complexes and facilities. These attributes make the community an excellent setting for raising and educating families. Our quality of water and wastewater treatment has been recognized internationally. The city staff is more than able and very willing to assist you in establishing your residence or business in Salmon Arm.
Take time to visit us and you will understand why Salmon Arm is a "Lifestyle Community."